BEST past-time. showing dogs!
New to tibbies, but not to showing
I have been showing dogs in AKC/UKC/IABCA for nearly 20 years, starting out with Shiba Inu, then changing, as I age, to the smaller Tibetan Spaniel. They are lovely home companions, even the show dogs, all Champions, who are all bred and born in my home. I have told my girls to give me just ONE perfect puppy for the ring, so far, they have not complied. Therefore, I must seek out perfect pet homes for those who do not pan out for the ring, although most of em could be shown. We live in Michigan, just north of Detroit, so come for a visit, see my dogs, as well as puppies, as I have two 5 month old puppies available, a boy and a girl, too...looking for a home to rule! Please email me at cinstrehle@yahoo.com, or call and leave a message for us at 248 96 one 4747. We'd love to see you!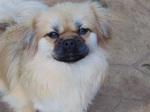 First Grand Champion!
I have been showing tibbies for about three years, and this is my first GRAND! So proud of her, attaining this title at just over a year old, with limited showing. My thanks to Jolene Finke, of Eagle Crest Tibetan Spaniels, for trusting me with her. Also, my thanks for the mentorship of Pam Bradbury, of Dragonsong Tibetan Spaniels. I look forward to showing my newest show prospect at the National this year, hoping Covid is a thing of the past.